13 Famous Louisville Foods
From bourbon balls to Derby Pie, there are a few truly delicious foods that Louisville is famous for. So many that we created Louisville Food Tours to share them all with you – and we stuffed as many of these delicious local specialties on our tours as we possibly could!
In compiling this list, we ruled out several delicious foods that are popular Southern staples but don't have any specific ties to Louisville or Kentucky (think pimento cheese or biscuits and gravy).
So head out for a bite with us, and enjoy all that Louisville has to offer! Here are all the Louisville (& Kentucky) specialties that you must try in Louisville.
Hot Brown
A Hot Brown is a warm, baked open face sandwich consisting of a piece of bread topped with with turkey, tomato bacon, and creamy, bubbly, cheesy Mornay sauce.
It was invented in 1926 by Fred K Schmidt, the chef at the famous and historical Brown Hotel in downtown Louisville. He created two signature sandwiches – but nobody remembers what the other one was. The Hot Brown, however, rose to culinary fame!
As the most popular origin story goes, the idea for the Hot Brown came from the hotel's swinging dance parties. Hungry dancers would order ham and eggs, which is incredibly specific and probably the last thing we'd think to order at a swinging dance party, but it was a different time. In any case, we love this theory because it is fabulously reminiscent of The Great Gatsby (although F. Scott Fitzgerald actually has closer ties to the Seelbach Hotel!)
Another legend posits that the dish is actually a variation of traditional Welsh rarebit, which is a British dish consisting of a hot cheese sauce served over slices of toasted bread (but there's no rabbit, turns out. We were surprised too!)
Either way, the Hot Brown is a must-try while in Louisville. The real deal can be found at The Brown Hotel, where it was invented, but you'll find versions all over town – including dishes inspired by the Hot Brown.
But our favorite spin on the classic is the Hot Brown Pizza from DiOrio's, a stop on the Urban Bourbon Trail in a building which was once a boxing gym where legendary Louisvillian Muhammed Ali once trained. In a twist of fate, it is steps away from his final resting place at Cave Hill Cemetary. We visit both – and taste the Hot Brown Pizza – on the Highlands Food and History Walking Tour.
Rolled Oysters
A rolled oyster consists of three raw oysters dipped in an egg-milk cornmeal batter (called pastinga), rolled in cracker crumbs (hence the name), and deep fried. The result is a baseball-sized oyster hushpuppy that is absolutely delicious and can be found only here in Louisville.
The dish was introduced to Louisville by Italian immigrant Phillip Mazzoni and his brothers at their saloon, Mazzoni's. in the late 19th century, they would give away these salty treats for free with a purchase of beer or whiskey – in the hopes that the salty food would inspire more thirst, of course. (You'll learn about other sneaky ways saloon owners enticed their patrons to drink more on our Phantoms of Prohibition tour!)
During Prohibition, Mazzoni's survived by selling rolled oysters in their saloon-turned-totally-legal restaurant. It soon became a popular food item all over town (maybe they should have taken a page from the Derby Pie™ book and copywritten the recipe…).
Today, you can find rolled oysters on the menus of most seafood restaurants and fish fries in Louisville. Worried about eating seafood in a landlocked state? Don't be – Kentucky is the national hub for both UPS and FedEx. Fish is pulled out of the sea, put on ice, and immediately shipped here before anywhere else, which means Louisville has some of the freshest seafood in the country!
Try a rolled oyster at Mike Linnig's, one of the best steakhouses in town and a legendary Louisville staple restaurant since 1925.
Beer Cheese
If you guessed that beer cheese is a sauce made from beer and cheese, you get a gold star! Beer cheese is one of Kentucky's most delicious culinary creations. In fact, we love it so much that we found a way to include it on ALL of our Louisville food tours!
Every beer cheese is slightly different: there are endless combinations of craft beer, cheese, and spices that can take a basic beer cheese to a whole new level of deliciousness. Imagine a dark, smoky stout paired with a creamy gouda or a hoppy IPA blended with a sharp cheddar. You can find beer cheese made with bourbon, or hot sauce. You'll find it on pizzas and on burgers (we love the beer cheese burger from Bunz Burgers).
If you're eager to try out as many varieties as you can, head to the Beer Cheese Trail in Winchester, Kentucky.
In Louisville, you'll usually find beer cheese on the menu at craft breweries. We love Goodwood Brewing's beer cheese, which you can taste on our NuLu Food & History Tour.
We also love O'Shea's Irish Pub's take on beer cheese, which you'll sample on the Phantoms of Prohibition tour and the Highlands Food & History tour.
Burgoo
Burgoo is a Southern stew that, for reasons unknown, is more popular in Kentucky than anywhere else. In fact, a few places in Kentucky claim to be the Burgoo capital of the world, and as far as we know, no one is disputing that claim. (Currently, Owensboro seems to hold the title.)
A typical burgoo recipe contains three types of meat (whatever you've got on hand will do just fine), corn, okra, and lima beans.
As far as "whatever meat you've got on hand" goes, that was often … squirrel. Yup. Burgoo is traditionally a squirrel stew. I know, I know.
But don't worry: the Burgoo that you'll find on Louisville menus has received a foodie makeover, while still hearkening back to its (supposed) Kentucky heritage. Try it at Mark's Feed Store in the Highlands, which also serves fantastic BBQ ribs and brisket.
Sorghum
Sweet sorghum syrup is a dark amber, thick, molasses-like syrup. It's made from Sorghum cane, a sugarcane-like plant which is primarily grown in Kentucky (and Tennessee).
You can find jars of Sorghum syrup in most stores in Kentucky in the baking aisle, and sample straight Sorghum syrup or a bite-sized Sorghum Cookie at Bourbon Barrel Foods. But it's a versatile ingredient: not only can you make sweet syrup from sorghum, you can also cook with the sorghum grain, which puffs up like popcorn!
Keep an eye out for creative uses of sorghum on menus in Louisville. Our favorite is the tangy sorghum sauce on the Pork Cakes at Feast BBQ in NuLu, which is a highlight of our NuLu Food & History Walking tour.
Weisenberger Grits
Weisenberger grits are the best frits in Kentucky. Fluffy and slightly sweet, these delicious sweet corn grits come from Weisenberger Mill in Midway, Kentucky. Weisenberger Mill has been milling corn since 1865 and has been owned and operated for 6 generations by the Weisenberger family.
The quality of Weisenberger grits is so good that many restaurants exclusively serve Weisenberger Grits – keep an eye out for them on local menus. Our personal recommendation is the phenomenal Shrimp and Grits from Jack Fry's in the Highlands Neighborhood.
Derby Pie™
Derby Pie™ is a delicious Louisville pie consisting of a layer of walnuts over a layer of chocolate in a flaky pie crust.
Created by the Kern family in 1954, Kern's Kitchen is the ONLY maker of the official Derby Pie™. As you can see, Derby Pie™ is trademarked: its original inventors are notoriously obsessed with guarding their original creation. If you see Derby Pie™ on a menu, it'll have a trademark logo and it will be the same pie that you can pick up frozen in the grocery aisle and heat up at home.
But if you know what to ask for, you can find freshly baked knockoff Derby Pie™ all over Louisville – especially during Derby season. Most of the not-actual-Derby-Pie recipes are made with pecans, and are closer to a pecan pie with a chocolate layer.
If you go to a restaurant or bakery and try to order Derby Pie™, you might get a few suspicious looks and some loud disclaimers like "we don't serve Derby Pie™ here but we do serve Chocolate Pecan Horse Racing Pie, which is completely unrelated."
It's a funny Louisville quirk: a famous Louisville food that often can't legally be called by its name. But it's absolutely heavenly and you MUST try it!
You can find an excellent Pecan Pie with Chocolate at Homemade Ice Cream & Pie Kitchen or try a dessert inspired by the Derby Pie™ called a Derby Bar at Please & Thank You (part of the NuLu Food & History Walking Tour).
Or, try the delicious original: you can pick up a box of the original Derby Pie™ in the frozen aisle at Kroger or from A Taste of Kentucky.
Modjeskas
A Modjeska is a delicious, soft caramel with a fluffy marshmallow center. Modjeska candies were invented right here in Louisville.
The Modjeska was named after Helen Modjeska, a Polish Shakespearean actress. In 1883, she was starring in the first American performance of Ibsen's A Doll's House in Louisville (our city has always had an incredible theatre scene). The main character, played by Helen Modjeska, is a married woman whose husband views and treats her like she is a doll rather than a woman.
At the end of the play, as her husband demands that she fulfill her duty as a wife and mother, she cries that she has duties to herself that are just as important, and leaves her husband. As you can imagine, this was quite controversial in the 1880's!
The inventor of the Modjeska candy was so taken by her performance that he invented a candy in her honor. And it's been a delicious, beloved Louisville staple ever since.
You can buy a bag of Modjeskas at Muth's Candies in NuLu, which inherited the recipe from its original creator and still makes them exactly the same way. This candy store has been an iconic Louisville staple for over a century and is run by the 5th generation of the same family, and it still makes some of the best sweets in town.
You'll sample Modjeskas and visit Muth's Candies on the NuLu Food & History Walking Tour.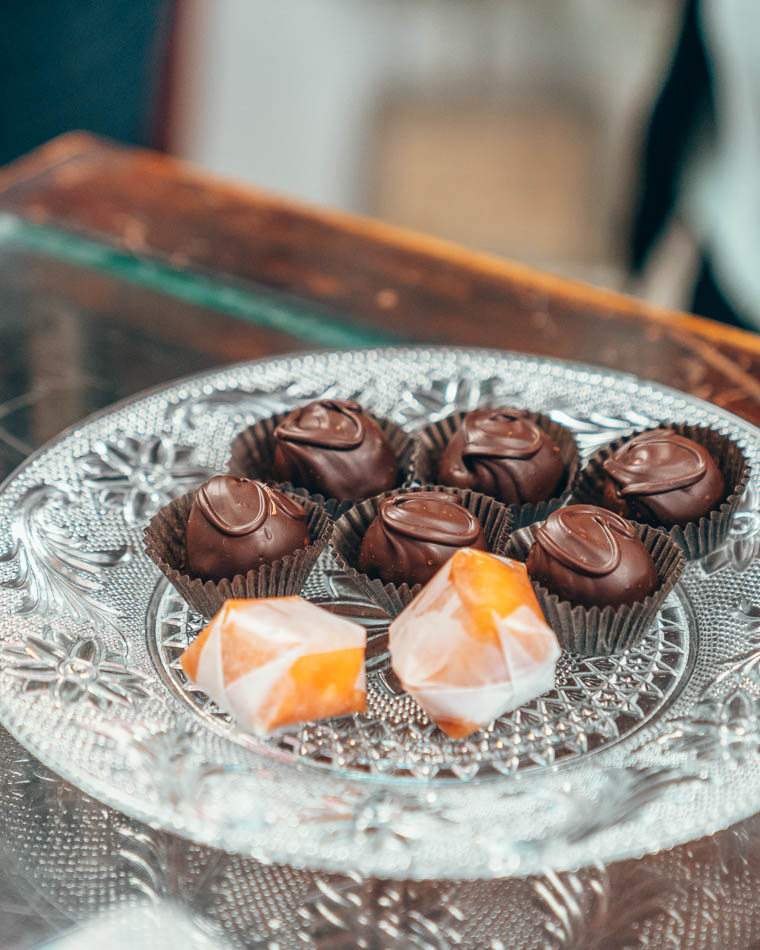 Bourbon Balls
Bourbon Balls are the meeting of bourbon and chocolate in candy perfection. If I had to pick a favorite Louisville famous food from this list, bourbon balls would be at the top!
There are technically 2 correct versions of bourbon balls.
First, there's the classic version: a delicious round chocolate shell filled with a soft bourbon cream and chopped pecans. You'll sometimes find these bourbon balls paired with a bourbon tasting at a few distilleries along the Kentucky Bourbon Trail.
In Louisville, try it at Muth's Candy in NuLu, which we visit on the NuLu Food & Walking Tour (we also hand out bourbon balls from Muth's on all of our tours)!
The other kind is a made-at-home version made with chocolate, pecans, vanilla wafers, and rolled in confectioner's sugar – you can make your own version by following this recipe.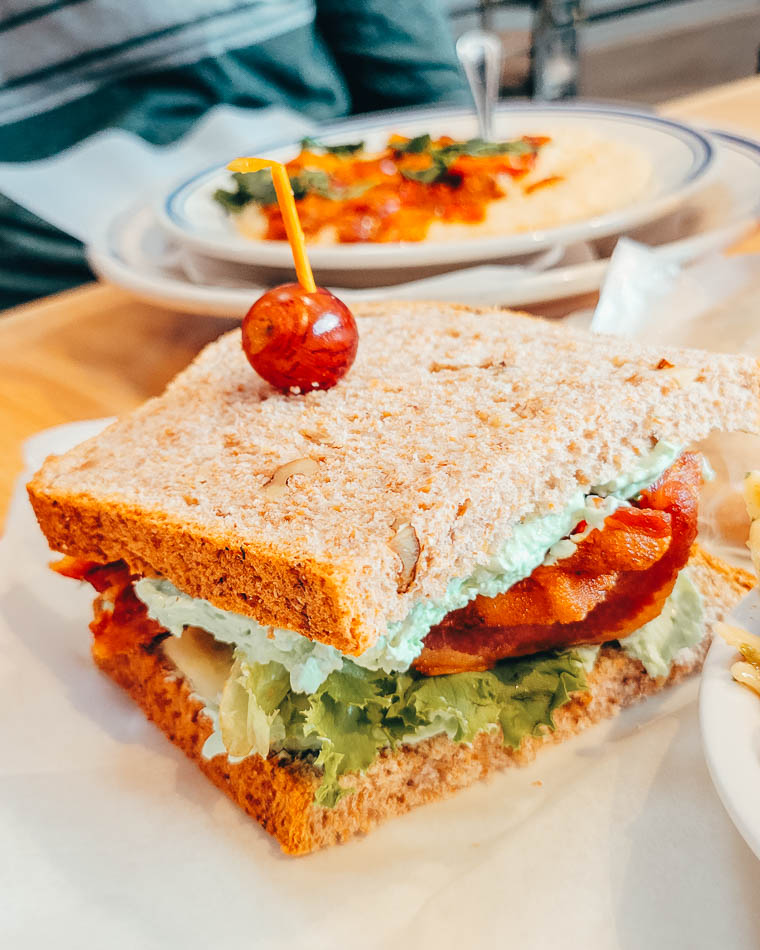 Benedictine
While a delicate cucumber sandwich may invoke images of British High Tea, this particular version made from grated cucumber and onion, cream cheese, and dill was created by Ms. Jennie Benedict, a caterer in Louisville, in the 1890s. She called her invention Benedictine. (The lesson here is that if you invent something delicious, you should definitely name it after yourself to ensure your spot in culinary history.)
Although it is sometimes served as a dip (and is delicious with classic Ritz crackers) Benedictine spread is traditionally served on sandwiches.
You can try this quaint specialty at The Cafe in Paristown on the Queen Anne sandwich, named for Louisville's most ubiquitous style of Victorian architecture (which you'll see on the Highlands Food & History Tour, which begins just a few blocks from here.) The sandwich features artisan walnut wheat bread spread with benedictine and topped with sliced cucumbers, bacon and lettuce.
Or, try making this Louisville specialty yourself: just blend a package of cream cheese with some shredded cucumber, grated onion, and a little dab of mayonnaise, and dill, onion, and black pepper (this recipe is a little more specific). Enjoy with Ritz crackers or on an adorable little tea sandwich.
Mint Julep
Is there a more Louisville cocktail than the Mint Julep? One sip of this refreshing spring drink conjures up thundering hooves and twin spires – this is the official cocktail of the Kentucky Derby, after all!
A traditional mint julep is made with just four ingredients: bourbon, simple syrup, muddled fresh mint and crushed ice. To put a lil' spin on it, we like to create a mint simple syrup instead, which imparts more mint flavor and doesn't require fresh mint every time you're craving a Julep.
Mint Juleps are traditionally served in a sterling silver Julep cup, though if you can't have that, a souvenir Derby glass is just as good (you'll find these in almost every .
Here's the thing, though: although it's the official drink of the Derby and has been since 1938, Louisville can't officially claim the Mint Julep. It's a Southern drink without a definitive origin story, though it appears frequently in early records as a cocktail prescribed and served for medicinal purposes – a clever workaround during Prohibition that allowed the masses to legally drink, wink wink. (You can learn more about Prohibition, and the drinks it inspired, on our Phantoms of Prohibition cocktail tour.)
You can try a refreshing Mint Julep at Pin & Proof (one of our favorite speakeasies and a stop on our Prohibition tour) or on a hot day at the racetrack at Churchill Downs – yes, even if it's not actually Derby day!
The Old Fashioned
Louisville's official cocktail is made with bourbon, simple syrup (or a sugar cube), bitters (usually Angostura), a flamed orange peel, and a cherry garnish served on the rocks in a lowball glass.
This famous cocktail is not only the official cocktail of Louisville, but it is said to have been invented at Louisville's exclusive (and elitist) Pendennis Club. Rumor has it that the recipe was invented by a bartender in honor of Colonel James E. Pepper, a prominent bourbon distiller, who then brought it to the Waldorf-Astoria Hotel bar in New York City, where it flourished as one of NYC's most beloved drinks.
Perhaps this cocktail was whipped up by Tom Bullock, the first known Black author to publish a cocktail manual and a bartender at the Pendennis Club. His book, The Ideal Bartender, was one of the last cocktail manuals published before Prohibition and offers a rare view into pre-Prohibition cocktail recipes and drinking culture in America.
However, this is widely disputed. The first mention in print of an "old fashioned cocktail" was actually in the Chicago Daily Tribune in 1880 – a full year before the Pendennis Club opened.
Regardless of its origins, the Old Fashioned IS the official cocktail of Louisville, and that makes it a Louisville specialty. Try the king of cocktails at 8UP Rooftop Bar – it's the grand finale on our Phantoms of Prohibition tour.
---
Ready to taste the history of Louisville? Book one of our food tours to taste a selection of Louisville's most famous culinary creations!