Where to Stay in Louisville
One of the questions we get asked the most from customers calling to book our food tours is where to stay in Louisville. A boutique hotel downtown? A vacation rental in NuLu or the Highlands? Something close to the airport or Churchill Downs?
There are so many options to choose from, but we've got strong opinions – and we're here to help you narrow it down. Here are the best places to stay in Louisville.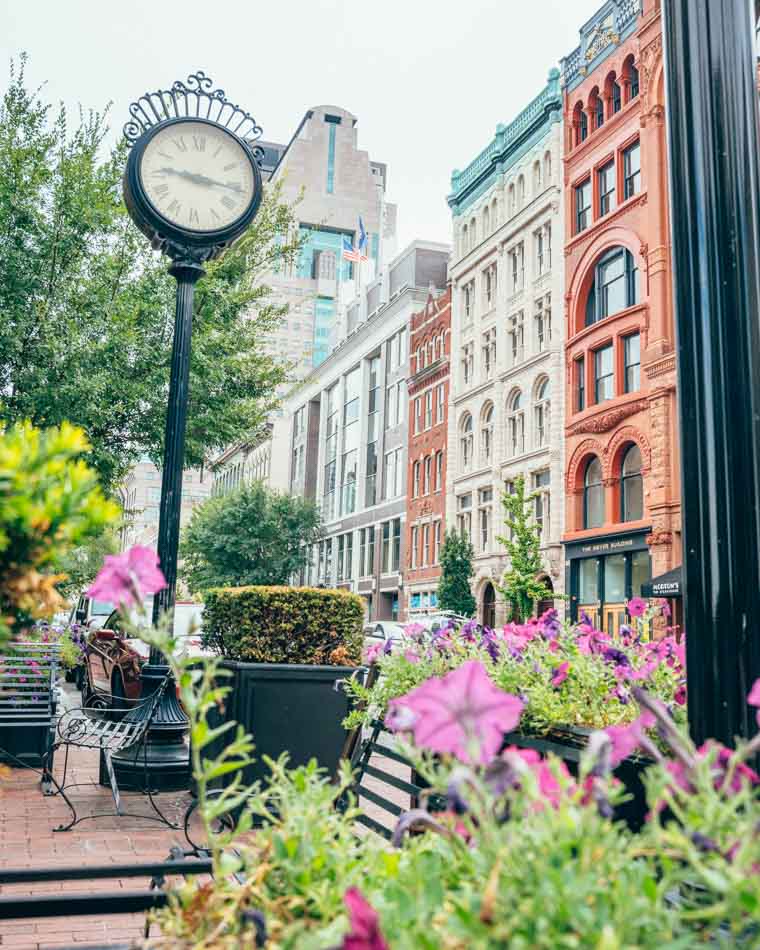 Downtown Louisville
Downtown Louisville, located right on the border of the Ohio River, is filled with bourbon distilleries and speakeasies, theaters, and museums.
Most hotels in downtown Louisville are clustered around either Museum Row – a stretch of Main Street lined with museums – or Whiskey Row, a stretch of historic brick facades housing distilleries, bars, speakeasies, and restaurants. Our Phantoms of the Prohibition evening cocktail tour departs from Whiskey Row.
Staying in downtown Louisville will put you close to many of the best attractions in Louisville, and you can get away without a car: in addition to Lyft and Uber, there are wide, flat sidewalks for walking, bike-share stations, and electric scooters you can rent by the minute.
We recommend staying in a boutique hotel, such as The Grady Hotel. This boutique hotel is located on Museum Row in the heart of downtown. The historic building dates back to 1883 and was once a medicinal bourbon apothecary. The lounge is themed like a bourbon bar/library, the rooms are incredibly modern and chic, and if you like, your windows can look out on the historic facades of Museum Row or the beautiful Ohio River. Breakfast is included, and you can grab (bourbon) cocktails and bites at the on-site restaurant which is named for a company that made Derby hats during the roaring twenties in the very same building. Plus, the hotel is dog friendly.
21C Museum Hotel is another incredible pick for a once-in-a-lifetime trip. This unique boutique hotel is both a hotel and a contemporary art museum, located right on Museum Row – so you're literally staying in a museum. It's easy to find, too: just look for the giant gold Statue of David in the middle of downtown. (Hint: it's just a block away from the giant baseball bat!)
Pop downstairs and see the art any hour of the day, or just admire the modern art in your room – each room is different! 21C is also home to one of the best restaurants in Louisville, Proof on Main. Fun fact: there are 21C locations in other cities, but Louisville's is the original location!
Staying in downtown Louisville? Book a spot on the Phantoms of the Prohibition Tour! As you eat and drink your way down Whiskey Row, you'll meet the resident ghosts of Louisville's historic downtown, trace the footsteps of bourbon magnates and mobsters, see Al Capone's secret getaway, discover hidden speakeasies in the belly of Whiskey Row, and learn the shocking truth about Prohibition.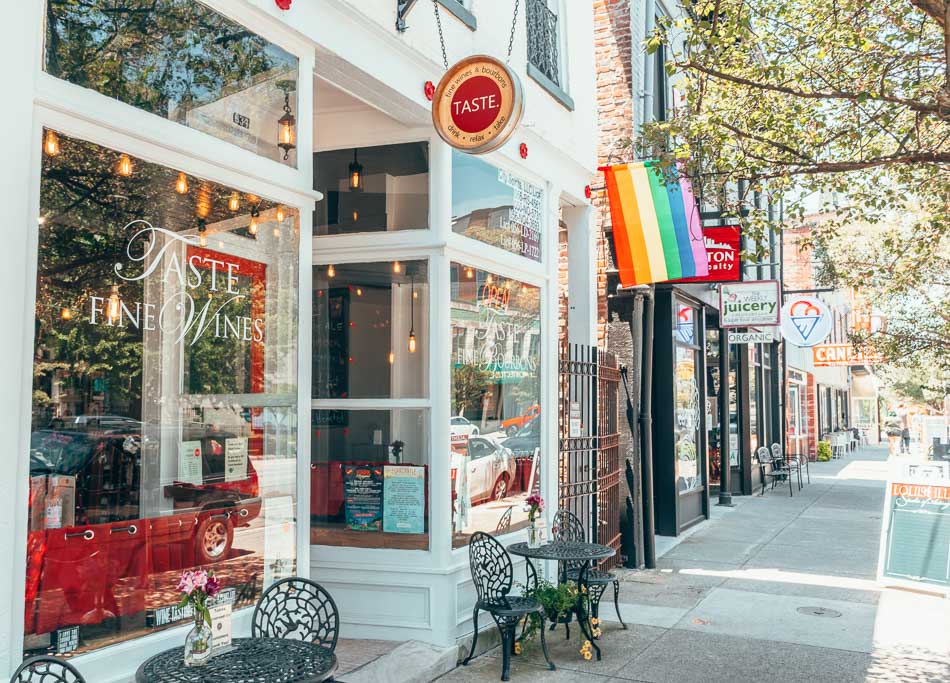 NuLu (aka "New Louisville" or East Market District)
The NuLu District is Louisville's trendiest neighborhood. Historic brick buildings painted with vibrant murals line the streets, art galleries and eclectic shops feature locally made goods, and hip local restaurants & bars pour craft beer and bourbon. This neighborhood is also home to our flagship food tour, the NuLu Food & History Walking Tour!
Short for "New Louisville," NuLu is located just a mile down Market street from Downtown – so you'll also sometimes hear this area referred to by its former name, the East Market District.
NuLu is walkable and vibrant: locally owned shops, art galleries, markets, bars, breweries, and restaurants spring up regularly, breathing new life into historic warehouses and lofts.
You'll find both hotels and vacation rentals available in NuLu.
This chic, hip loft is one street over from the main stretch of Market Street. The loft features two bedrooms on two separate stories, a gorgeous kitchen, updated bathroom (with an Instagrammable tile wall, I might add) and a cute little outdoor patio.
This budget-friendly historic apartment is right next to the NuLu Marketplace. It's easy to find, just look for the colorful rainbow horse mural on the side of the building. Inside the apartment brick walls, high ceilings and huge windows look out on city views. Relax by the working fireplace, take a bath in that huge bathtub, cook in that stunning kitchen (or don't, there's incredible food steps from your door) and enjoy!
Staying in NuLu? Book a spot on the NuLu Food & History Walking Tour! As you walk through urban NuLu and neighboring historic Butchertown, you'll taste Kentucky and Appalachian classics like bourbon balls and fried chicken, visit a historic home once occupied by Thomas Edison, taste a curious confection inspired by a Victorian-era actress, trace the history of German immigrants in Louisville, and more.
The Highlands
The Highlands neighborhood is located just a couple miles south of Downtown, and is actually made up of a few smaller micro-neighborhoods, all under the Highlands umbrella. Its tree-covered streets are lined with beautiful historic homes, including many gorgeous Victorians, especially in the beautiful Original Highlands and Cherokee Triangle micro-neighborhoods. This is the area where we run our Highlands Food & History Tour!
In addition to historic Victorian homes, the Highlands is also home to the Bardstown Road corridor, a thoroughfare lined with vibrant murals, eclectic shops and some of Louisville's best restaurants & bars that stretches all the way to Bourbon country.
This is a residential area, and there are some incredibly cute, centrally located vacation rentals renting out on VRBO.
This stylish Highlands Home is the perfect "walk to all" location. Its bright and artsy, with four bedrooms, a modern kitchen, and a beautiful outdoor deck area. The location truly is perfect too- by the intersection of Bardstown and Eastern Parkway, you'll truly be able to walk to the best of the Highlands, including Cherokee Park.
There is also one hotel in the Highlands: The Bellwether. Located in a converted historic building, the smal, boutique hotel is beautiful and carefully curated, and operates without a front desk – like if an AirBnB was a hotel.
Staying in the Highlands? Book a spot on our Highlands Food, History & Architecture Walking Tour! As you walk along some of Louisville's oldest and most iconic streets, you'll taste (and drink) local specialties like biscuits & gravy, beer cheese, and bourbon balls; visit the final resting place of Muhammad Ali and Colonel Sanders; taste a dish inspired by the Hot Brown at Muhammed Ali's former boxing gym; learn about a fabled flood and the glory days of Louisville's 24-hour streetcar; admire beautiful Victorian homes, and more.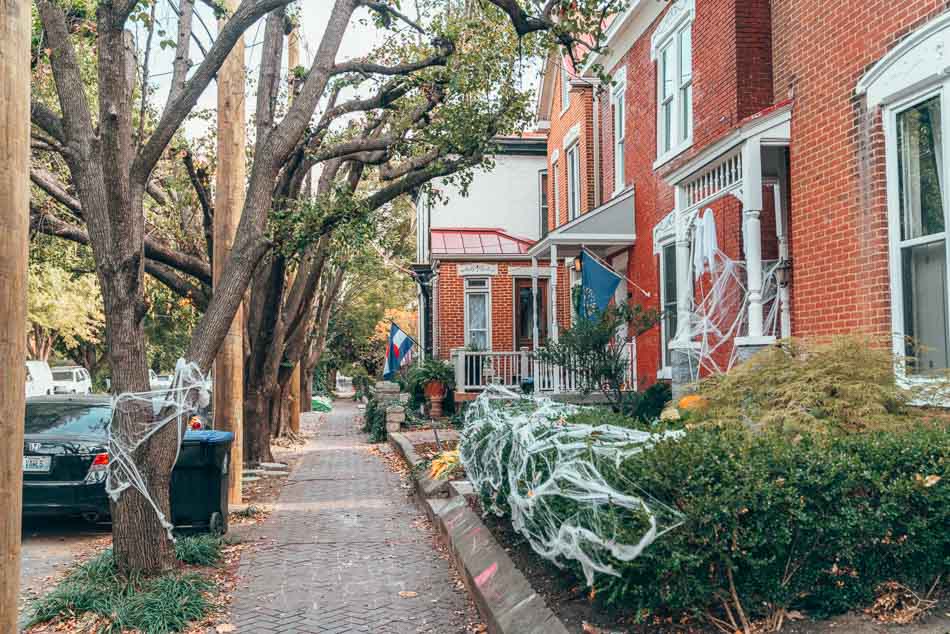 Butchertown
Butchertown is a former meatpacking district bordering NuLu that has been totally transformed. Today, the formerly industrial area is lined with colorful murals and reclaimed lofts and warehouses.
You can grab a drink at Ten20 Brewery, take a tour of Copper & Kings brandy distillery, attend a drag show at Play Louisville, and shop the local vendors at Butchertown Market.
This residential area is home to a few cute vacation rentals. This Artsy Butchertown Apartment has three bedrooms and a fabulous, renovated kitchen. You will be in the perfect spot to stroll down E. Washington Street to all the fabulous shops, distilleries, and Play Lousville.
This Historic Shotgun House in super charming and cozy, with exposed brick and warm colors. You'll be right in the middle of Butchertown and close enough to stroll over to NuLu!
Staying in Butchertown? Book a spot on the NuLu Food & History Walking Tour, which tells the story of Louisville through its cuisine. In NuLu and Butchertown, you'll taste Kentucky and Appalachian classics like bourbon balls and fried chicken, visit a historic home once occupied by Thomas Edison, taste a curious confection inspired by a Victorian-era actress, trace the history of German immigrants in Louisville, and more.
---
Ready to taste the history of Louisville? Book one of our food tours to taste a selection of Louisville's most famous culinary creations!