5 Spooky Louisville Ghost Tours
The city of Louisville, Kentucky dates all the way back to 1778 – and it's seen a lot of death in that time. From tragic fires, to devastating floods that wiped out entire swaths of the city, to a dark day known only as "Bloody Monday," to visitors that never checked out of the most opulent hotels in town – there are a lot of ghosts. Oh yeah, and then there's the most haunted neighborhood in America. Is your spine tingling yet?
While the best time of year to seek out scary thrills is during Halloween season, you can venture out after dark on these spooky tours in search of Louisville's least living residents all year long. Here's a roundup of the best Louisville ghost tours!
Old Louisville Ghost Tours
Old Louisville is Louisville's most beautiful neighborhood – and its most haunted. In the midst of the largest collection of Victorian homes in the country, ghosts still wander through the lush courtyards and streets of Old Louisville… and so can you on an Old Louisville Ghost Tour.
On your haunted walking tour of Old Louisville, you'll listen to stories of the wealthy titans who lived and died in the grand Victorians of Old Louisville as you pass by the gnarled Witches Tree and explore St. James Court, Ormsby Avenue, Floral Terrace, and Millionaires Row by flickering gaslamp.
Important Note: there are several companies offering haunted walking tours of Old Louisville, but we only recommend ONE company, founded by David Dominé, a local historian and expert who literally wrote the book on America's Most Haunted Neighborhood. Other Old Louisville-area ghost tours used his books to create copycat tours and were promptly sued. Yes, the tour industry is dramatic. I'm sure any day now we'll have our very own Project Runway equivalent. So make sure you book the original Old Louisville ghost tour!
Phantoms of the Prohibition: Ghosts, Cocktails & Bites Tour
What would make a ghost tour even better? If you answered food and drink, then this unique Whiskey Row ghost tour is for you!
Venture out to explore the hidden stories of Louisville's haunted past. As you eat and drink your way down Whiskey Row, you'll meet the resident ghosts of Louisville's historic downtown, trace the footsteps of bourbon magnates and mobsters, discover hidden speakeasies, and learn the shocking true story of Prohibition.
You'll meet grisly ghouls like as the Blue Lady, who haunts one of Louisville's most famous historic hotels (you know, the one made famous by the Great Gatsby…) and was brutally murdered by a celebrated Kentucky war hero.
And you'll hear the ghastly tale of the infamous DuPont family, made fabulously wealthy by selling gunpowder. Karma caught up with him and he was murdered at one of Louisville's most opulent hotels by his pregnant mistress.
The stories on this tour are as fascinating as the ghosts, and the Prohibition-era cocktails and spirits (paired with delicious small bites) make the perfect accompaniment to Louisville's spooky history. You can book your Whiskey Row walking tour with us, Louisville Food Tours.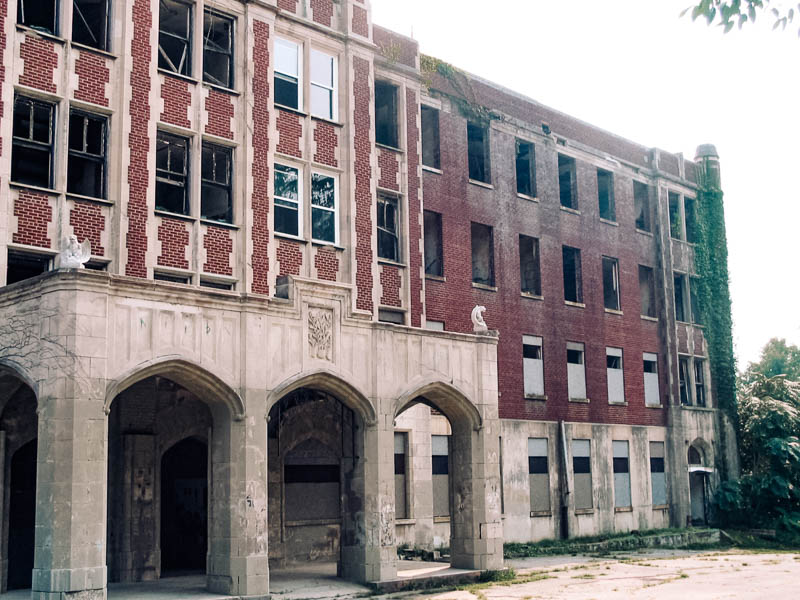 Waverly Hills Sanatorium Tour
Waverly Hills, a former tuberculosis sanatorium, is Louisville's most haunted attraction – and one of the most haunted buildings in the entire country. The enormous Tudor Gothic hospital lays sprawling in the Kentucky hills, the site of countless grisly horrors.
The most famous of these spine-tingling medical facts is the body chute. So many patients died at Waverly Hills that in order to dispose of the mountain of dead, they built a slide to send them all straight to the crematorium.
The many floors of this once-full hospital still house a few resident spooks. One was a child who tragically died at a young age. To this day, if you roll ball down the hallway of their room, it will roll right back to you. They say it's the never-ending game of the forlorn child, sometimes heard faintly laughing in the corridors.
If you dare, there are several tours offered at Waverly Hills. The historical tour focuses more on the dark history of the sanatorium, while the paranormal tours and public investigations focus more on ghost hunting. If you're really feeling brave, you can even book a private investigation, beginning at 10 PM and lasting until dawn… or until you flee in terror.
Psst: In October, Waverly Hills transforms into a haunted house. Head over to our sister site, Let's Go Louisville, for a guide to the scariest haunted houses in Louisville! Ahhh!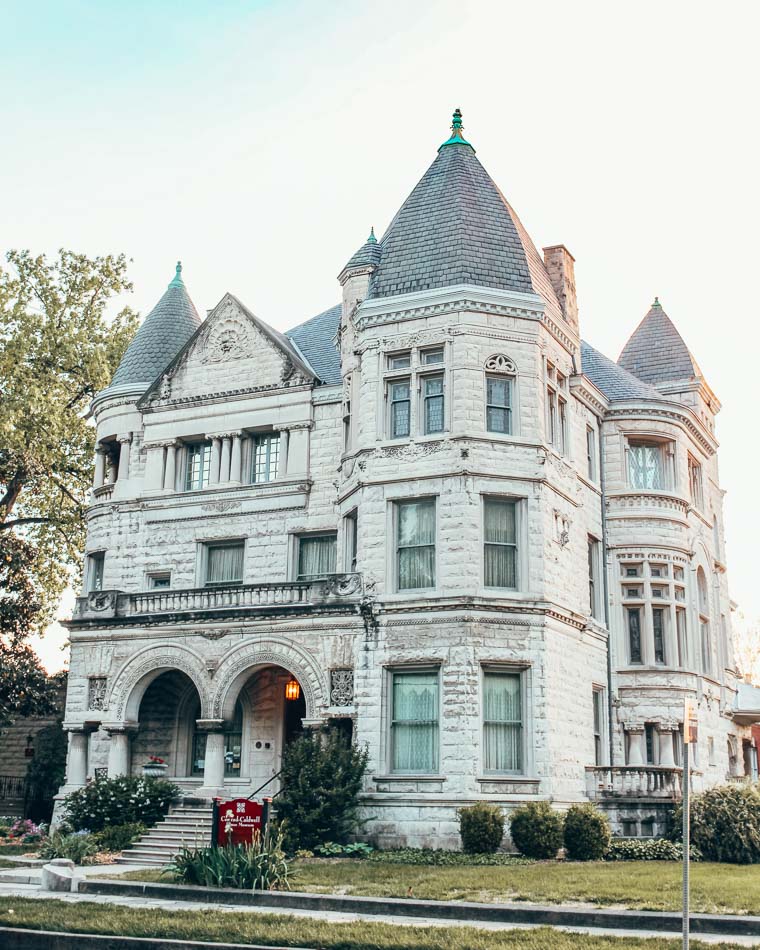 Conrad-Caldwell House: Haunting Lamplit Tour
Once a looming presence showcasing the Victorian grandeur of Louisville's Gilded Age, the Conrad-Caldwell House Museum is one of the most unique mansions in historic Old Louisville. Dating back to 1895, it was built to house two of Louisville's most prominent businessmen and entrepreneurs. But somewhere along the way, things went horribly wrong…
For just 3 nights in October, you can tour the home after nightfall to seek the long lost residents who still haunt these walls.
Lit only by lamplight flickering off of stained glass, you'll peer beyond the veil and learn about mourning traditions practiced during the Victorian era, and meet the lingering spirits who refuse to leave the opulence of this once-grand castle.
Belle of Louisville: Ghosts on the River
While the 108-year-old Belle of Louisville makes evening sunset cruises almost every night during most of the year, for one spectacularly spooky night in October, residents will share the deck with a crew of ghosts and apparitions.
For years, rumors have circled surrounding the fate of a few morbid guests on board the haunted steamer. But hauntings are bad for business – unless it's spooky season!
Secrets of the Belle are revealed as you explore the dangerously hot Boiler Room, where a full body apparition was once seen. Enjoy live ghost stories on the deck, have your tarot cards read, compete in a costume competition and of course, taste a few spirits and snacks (even ghosts need to eat)!
This is a one-time-only tour each year, so snag your tickets early. Or, check out some of the Belle of Louisville's many other incredible tours, such as the Murder Mystery Dinner Cruise.
---
We hope our list of the best spooky ghost tours in Louisville got your heart racing.
Why not round out your trip with a food tour and experience the story of Louisville one bite at a time? We run three tours:
NuLu Food & History Tour tells the story of Louisville, and Kentucky through its cuisine.On 6 delicious stops through urban NuLu and historic Butchertown, you'll taste Kentucky and Appalachian classics like bourbon balls and fried chicken, visit a historic home once occupied by Thomas Edison, taste a curious confection inspired by a Victorian-era actress, and more.
The Highlands Food & History Tour explores one of Louisville's oldest and quirkiest neighborhoods. As you walk along some of Louisville's most iconic streets, you'll taste (and drink) local specialties; visit the final resting place of Muhammed Ali and Colonel Sanders; taste a dish inspired by the Hot Brown at Muhammed Ali's former boxing gym; and admire beautiful Victorian homes.
Phantoms of the Prohibition Cocktails & Bites Tour: Venture out to explore the hidden stories of Louisville's haunted past. As you eat and drink your way down Whiskey Row, you'll meet the resident ghosts of Louisville's historic downtown, trace the footsteps of bourbon magnates and mobsters, see Al Capone's secret getaway, discover hidden speakeasies in the belly of Whiskey Row, and learn the shocking truth about Prohibition.
Hope to see you on a tour soon!